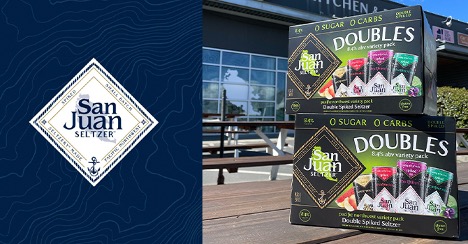 San Juan Seltzer is betting on a new line of imperial hard seltzers called Doubles being "a game changer" for the nearly 5-year-old company, CEO and president Ron Lloyd told Brewbound.
The 8.4% ABV sugar-based hard seltzers are beginning to hit retailers such as grocery chain Kroger now, but will officially launch Thursday at the San Juan Seltzery in Seattle. The Doubles line will start in variety can 12-packs in four flavors – Cucumber Mint, Watermelon, White Peach, and Huckleberry – and will expand to include 19.2 oz. single-serve cans of White Peach by the fall.
"Before we packaged our first can, we already had over half a million [dollars] in pre-orders from [our] customers," Lloyd said. "That's not an insignificant number because we fully expected many multiples of that just this year alone." Previous San Juan offerings all checked in at 4.2% ABV, with zero sugar and zero carbs. Keeping true to the Doubles name and the bar call, the company is spiking the seltzers to an 8.4% ABV.
The initial idea for Doubles was to make it San Juan's first true seasonal offering for off-premise grocery retailers, Lloyd said. Those plans changed after grocery chain H-E-B requested the pack be a year-round offering.
The development of Doubles has been about a year in the making, with San Juan collaborating with its two largest accounts – grocery chains Kroger and Albertsons/Safeway – to nail down the flavors, packaging format and ABV level, Lloyd said.
"We think Doubles is going to take the company to the next level," he said. "I've never seen a retailer group more excited about our company or this category."
Katy Enger founded San Juan in 2017 as the Pacific Northwest's first seltzer brand with flavors inspired by fruits grown in the Pac Northwest. The company began contract producing at Schooner Exact before buying the brewery and turning it into a dedicated "seltzery," a term the company trademarked.
Entering its fifth summer season, San Juan finds itself in a beer-centric hard seltzer market that is in decline, with the segment's off-premise dollar sales -14.3%, to nearly $698.2 million, and volume falling -19.1% through March 26, according to market research firm Circana. However, regional brands such as San Juan have carved a niche, scraping for around 8% of the overall hard seltzer market, which includes spirits-based seltzers such as E. & J. Gallo's High Noon Sun Sips.
In 2022, San Juan increased off-premise dollar sales +2%, outpacing the overall hard seltzer market, which declined -9.9%, according to NIQ data shared by Bump Williams Consulting. Year-to-date through April 15, outside of seltzer's peak season and following a wholesaler transition, San Juan's off-premise dollar sales have declined -15.9%, the firm added.
Nevertheless, the roll out of Doubles has San Juan bullish on 2023.
"We think we're going to continue to grow at a very rapid level," Lloyd said. "We think these Doubles in particular are going to draw us into new markets much quicker than we anticipated.
"This Doubles launch has really been customer driven," he continued. "You can tell when the winds change a little bit, and this Doubles is really pushing us and pulling us at the same time."
San Juan is investing in excess of half a million dollars into the launch of the brand, which will include over-the-top television ads, social media, point-of-sale items, events and demos, Lloyd said.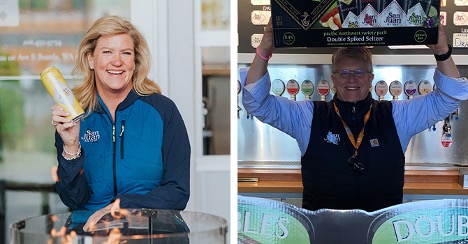 Katy Enger and Ron Lloyd of San Juan Seltzer
San Juan Became Profitable in 2022, Aiming for More Than 30% Growth in 2023
Over the last three years, San Juan has posted a compound average growth rate of +53%, with the company's topline growing +27% in 2022, Lloyd shared.
"We've grown our gross margin every year," he said. "Our gross margin is now closer to 55% gross margin than it is 50%. We were profitable last year for the first time, and we also grew our free cash flow by nearly $1 million."
The company expects to grow between +30% and +37% in 2023, Lloyd said.
The strategy is to build the San Juan brand as one "to last" for the long haul and potentially turn over to the children of Lloyd and the Engers. Lloyd credited the sustained growth to not pushing the brand out of its core Pacific Northwest markets too fast, while telling a consistent brand story and offering a cleaner liquid with flavors distinct to its home market.
San Juan's distribution footprint includes Washington, Oregon, Idaho, Texas, Montana and Alaska. The company is committed to producing all of its products at a seltzery, which Lloyd admitted may lead the company to adding another facility in another part of the country.
San Juan's Seattle seltzery can produce 72,000 barrels of fermented products annually and boasts the ability to package 150,000 barrels of product. The company is able to package 240 cans per minute on its high-speed filler and recently added a robot that can package 480 cans per minute, Lloyd shared.
"We've got enough capabilities right here [in Seattle] to continue to service the west for another two, three years with minimal investment," he said.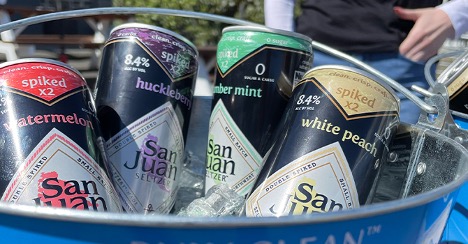 San Juan Transitioned to Columbia in January
Among the reasons San Juan is bullish on 2023 is the switch to the Pacific Northwest's largest wholesaler, Columbia Distributing, in Washington state. Although the move was announced in March, San Juan's transition from Northwest Beverage to Columbia started January 1.
"To represent San Juan Seltzer made right here in the Seattle-area at the nation's only Seltzery is a real honor," Chris Steffanci, president and CEO of Columbia Distributing, said in a press release. "Just as important, the liquid couldn't be better. It's refreshing with very clean, distinct flavors. This is a really exciting partnership for many reasons – the whole team can't wait to grow this brand."
"They're just a powerful partner," Lloyd told Brewbound. "They can do the basic blocking and tackling overnight. They can improve our merchandising and reduce out of stocks on our high velocity items overnight."
In the first four months, Columbia has helped San Juan make headway in convenience stores and the on-premise channel, Lloyd added.
"On the c-store front, we've seen upwards of 400 new doors that we didn't have back in January, February," he said. "And then in the on-premise were up another 250 to 300 [placements]."
Lloyd added that the on-premise gains are due to San Juan's draft seltzer business and the addition of 19.2 oz. singles to its mix.
San Juan offers three core flavors on draft year-round along with a rotating flavor every six months, Lloyd said. Huckleberry and Wild Blackberry Lemonade are the leading flavors, especially in the summer season, he added.
"In the last two years alone, we've had to purchase more than 500 new kegs," Lloyd said. "We're buying about 300 new kegs this year. … We're the clear dominant draft [seltzer] brand in the Pacific Northwest."
https://www.brewbound.com/news/san-juan-seltzer-launches-doubles-8-4-abv-seltzer-distribution-moves-to-columbia-in-washington